Huawei Watch GT 2: New Champagne Gold Edition with two strap colors – Frosty White and Chestnut Red
Huawei Watch GT 2 is the current best smartwatch from Huawei. And today, the Chinese tech giant has given a fresh look to this wearable series by launching a new edition of Huawei Watch GT 2.
The Huawei Watch GT 2 is now launched in the new Champagne Gold edition with straps in two new colorways – Frosty White and Chestnut Red.
The new Huawei Watch GT 2 42mm has custom watch faces that match the strap and frame. It also brings a cycle tracking feature catered to female users.
Huawei Watch GT 2 Specifications:
Huawei Watch GT 2 is powered by the Kirin A1 chipset and comes with 2 weeks of battery life (1 week on 42mm) after one charge, supports Bluetooth calling (46mm), in-device music, and storage capacity of 500 songs and sports a Super AMOLED display with 3D glass screen design.
Kirin A1 processor improves battery life and integrates advance Bluetooth processing unit, audio processing unit an ultra-low power consumption application processor and a separate power management unit.
With this munch of management, Huawei Watch GT 2 can stand up to two weeks with both heart rate and call notification functions.
For health, Huawei Watch GT-2 is compatible with 15 sports including eight outdoor sports (running, walking, climbing, hiking trail running, cycling, open water, triathlon) and seven indoor sports (walking, running, cycling, swimming pool, free training, elliptical machine, rowing machine).
In terms of heart rate monitoring, the user will be notified if the heart rate is above 100bpm or below 50bpm for more than 10 minutes. The watch is also powered with a sleep monitoring function.
Huawei Watch GT 2 New Colors Price and Availability:
Huawei Watch GT 2 Frosty White variant priced at 299 euros and Chestnut Red priced at 299.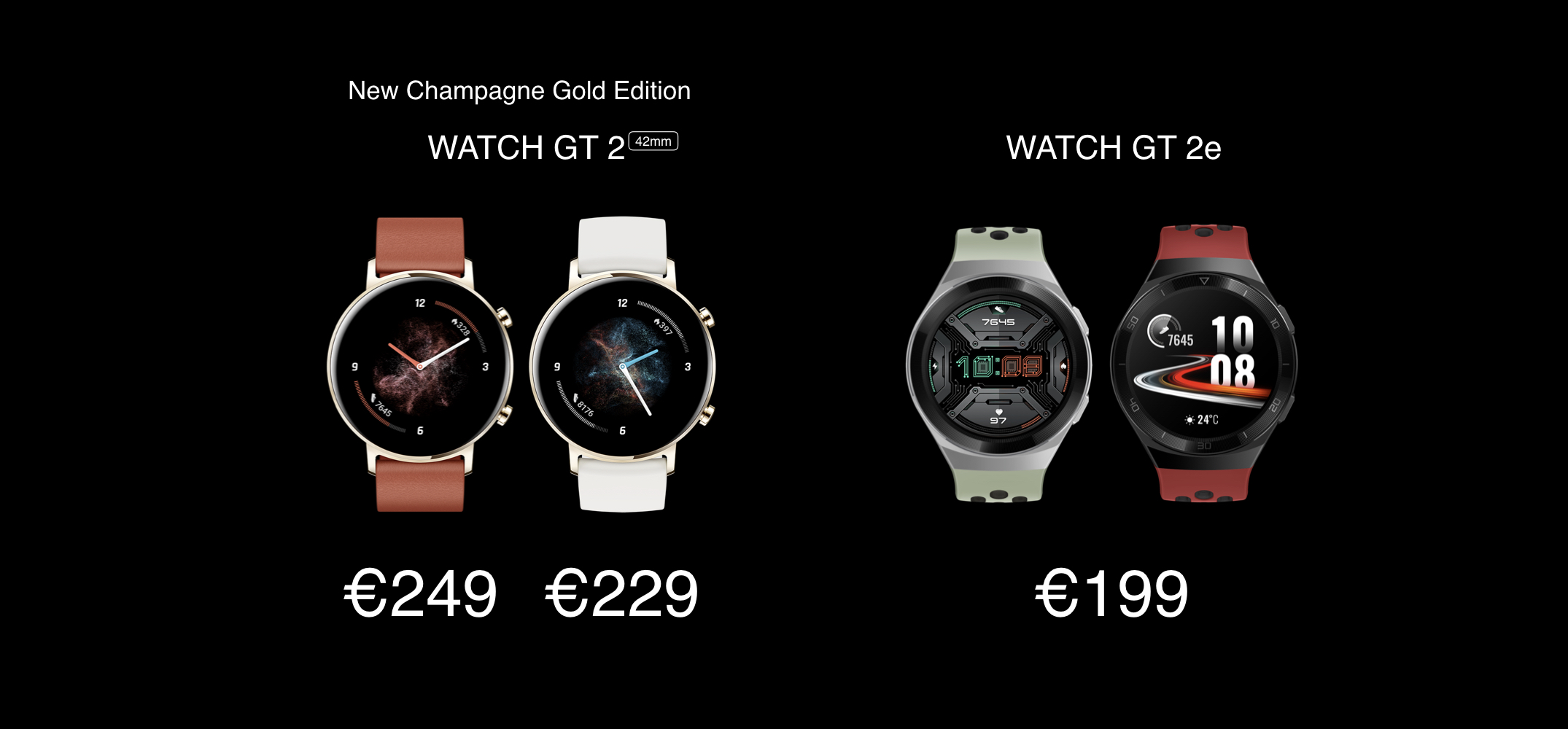 Huawei Watch GT 2 42mm new feature recruitment beings, receiving stability update
Huawei has announced a new features beta testing recruitment for the Watch GT 2 42mm version. Ahead of the beta rollouts, the company is also rolling out a new firmware version for the Huawei Watch GT 2 42mm users that improves system security.
To be mentioned, the 46mm version of the Watch GT is already testing these new features and has received the first beta build recently. Therefore, we can explore all of the features that the Watch GT 42mm will be installed once the rollout started.
Jumping to the new software update, it comes with firmware version 1.0.13.12 and brings system stability improvement for better performance on the device. This rollout is currently being conducted in batches and may take some time to cover every user.
Latest update features:
After the rollout begins, the Huawei Watch GT 2 42mm will bring a number of new changes in the sports mode, where you can now set it always on screen. The option for screen lock is also there and now you'll enjoy the menstrual cycle management on your Watch GT 2 42mm.
The Huawei Watch GT 2 new feature beta recruitment is opened for 2000 testers in Chian. The version release will be announced after the application adaptation.
How to check for updates:
You need to connect the Watch GT 2 Pro to your phone using the Huawei Health app, open the app, touch Devices, touch the device name, choose Firmware update, then follow the onscreen instructions to update your watch if there are any new updates.
How to participate:
Corresponding Huawei Watch GT 46mm users will need to download and install the Huawei members app. You will need to log in to the Member Center App with a Huawei account to sign up for the recruitment.
After receiving the SMS notification of the recruitment of the internal test, open the Member Center APP, click (Experience Officer) >> and find (Sports and Health Members) in the task square Reward experience) Accept the task >> Download (Experience with rewards for sports health members) >> Install to the mobile phone. (If you fill in your account incorrectly, you will not be able to find this task) After installation, this version will automatically overwrite the original sports health APP on your phone.
Update and Upgrade:
After successful approval, a new test software will release for the users and need to be downloaded. To do this, you need to open the Huawei Health app > Click on the connected Huawei Devices > On the device detail page, tap on Firmware update > if there's a new version available, it's recommended to download.
Feedback:
Selected testers are eligible to provide closed beta feedback, open the Huawei Health App > open device > detail page > find and open Device issue Beta feedback, click into the consent agreement signed by beta > If you receive an update > select download now and follow the onscreen instructions.
Huawei Band 6 firmware 11.1.2.34 update brings new lock screen password feature
Huawei has started to rollout a new firmware 11.1.2.34 update for the Huawei Band 6 wearable device. This firmware brings a list of new features and optimization including the new lock screen password feature.
Aside from the screen lock feature, the 11.1.2.34 firmware update for Huawei Band 6 users can also test the new free trial feature for paid watch faces, experience the weather app, gets an improved menstrual cycle management system.
There is also a whole new list of optimizations that this update brings improvements for sleep detection features as well as optimizations for display, system stability, user interface, and other important aspects of the system.
However, there are a few things that you should know about this update. This update is rolling out in batches and it comes with several new features that are designed for the Chinese model. However, the update could rollout for the global models in the coming weeks.
New:
Added lock screen function to enhance device security
Added free trial function for paid watch faces
Added UV intensity information in the weather app
Support menstrual cycle card, you can slide left and right on the main interface to view after adding, convenient and worry-free
Optimization:
Optimize the menstrual cycle function, you can add and modify the menstrual cycle
Optimize scientific sleep function and improve the accuracy of sleep detection
Optimize operation prompts in some scenarios
Optimize some interface display effects
Optimize the system stability of some scenes
Huawei Band 6:
Huawei Band 6 sports 1.47 inches AMOLED rectangular display designed with a polymer watch case while the watch strap is made of silicone. The elegant design and lightweight giving you a fashionable look.
Moving on to the software offering, it offers heart rate monitoring, Spo2 monitoring, TruSleep 2.0 sleeping tracking, stress monitoring, as well as 96 different workout modes including running, cycling, and even rope skipping.
In terms of battery life, it can last long up to 14 days, and roughly about 10 days. Furthermore, a single charge of 5 minutes can extend the battery life by about 2 days.
Additionally, it supports  Bluetooth 5.0, Android 6.0, and above, and you can see incoming calls, text messages, weather updates and can control your music as well.
Huawei FreeLace Vitality Edition Wireless Earphones comes in four vibrant colors
Huawei FreeLace Wireless Earphones Vitality Edition launched on 23rd Spemeber in four vibrant colors. It comes with a 13mm moving coil unit and supports the AI call noise reduction function for immersive sound quality. This headset adopts a light body contour and a vivid appearance giving a flaunting look. On top of this, it comes with an ear fit module that easily adopts any ear size for long-lasting comfortable wearing.
Now, let's explore the price, availability, and specification of this headset-
Pricing:
Buy Huawei FreeLace Vitality Edition for just 269.00 Yuan
Make a deposit of 30.00 Yuan for the fastest delivery
Color Availability:
Muxiu Yellow
Spruce Green
Obsidian Black
Mint Blue
Pre-order Process:
Pay the deposit  between 23rd to 26th September
Pay the balance until 27th September
Wait for delivery after final payment
Huawei FreeLace Vitality Edition Specs:
This wireless cord earphone has a semi-in-ear design and skin-friendly texture. In terms of audio technology, it equips with AI call noise reduction technology based on deep learning. It means, it can filter environmental noise during calls. However, it doesn't support active noise reduction.
Moving ahead, it provides a 110 ms latency for high-quality games for seamless audio synchronization. Besides, it has a one-key flash connection. It quickly connects with other devices such as smartphones, tablets, and laptops.
Furthermore, its 18 hours long battery life delivers dynamic sound quality. Meanwhile, a 5-minute charge is enough to provide 4 hours of battery backup and keeps you connected with your favorite playlist.