The Kirin 820 will be the world's most powerful mid-range processor that will come with 5G connectivity. And this is proved by the Geekbench results that appeared recently.
According to the information, the Kirin 820 5G CPU is based on A67 core and Mali-G57 GPU, which has the same architecture as Mali G77. This chipset will also have power in house NPU for maximum AI capabilities.
On the Geekbench 4 test, the Kirin 820 scored 3490 single-core and 11200 on multi-score a higher than Snapdragon 765G, and MediaTek 1000L. Moreover, the Kirin 820 5G beats the flagship Kirin 990 and Snapdragon 855.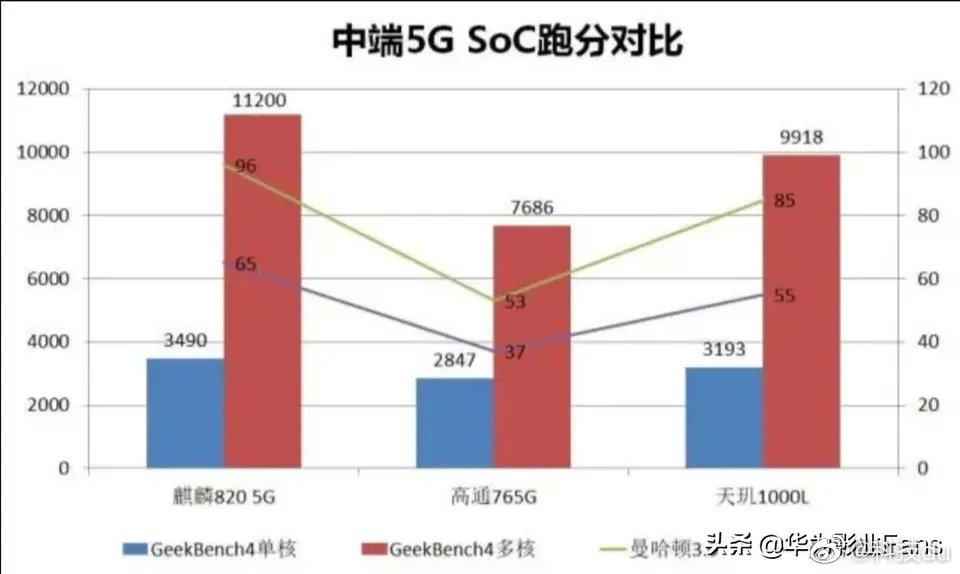 On Geekbench 5, the Honor 30S equipped Kirin 820 5G claimed 635 points on single-core and 2433 on multi-core score. Compared to Redmi K30 5G featuring Snapdragon 765G with 618 single and 1909 on multi-core.
The results are pretty powerful and show that Huawei has really put high effort to create a new chipset that will be unveiled with Honor 30S on March 30 in China.
The most powerful midrange Kirin SoC… #Kirin980 #Honor30S@ClubHuawei @HuaweiCentral @HuaweiNewsEUhttps://t.co/0XupldZBj2 pic.twitter.com/BbbVdOuCZo

— I_Leak_VN (@I_Leak_VN) March 23, 2020
⬅️麒麟820、骁龙765G、天玑1000L跑分对比

➡️麒麟980、骁龙855、麒麟820跑分对比 pic.twitter.com/14F9q1WdTf

— xianjingmaoxian (@xianjingmaoxian) March 22, 2020