HarmonyOS 3.0 Developer Stable Changelog, Check all new the features
HarmonyOS 3.0 will launch on July 27, but public developer beta testers have already started receiving the full features of this upcoming operating system. Hence, we're here to share with you the complete HarmonyOS 3.0 changelog along with all of the new features.
HarmonyOS 3.0 final developer beta comes with build version 3.0.0.81 (DEVC00E80R3P8) and it has a massive OTA package size of 6.31 GB. That doesn't seem to be the case because HarmonyOS 3.0 has a new slogan – commonly used and always new.
According to the changelog, the new version brings you better home screen personalization options including the service widgets and new size support for large folders. On the other hand, the home screen layout has received a new one-click layout shift. Meanwhile, the Super Device feature is now expanded with more functionalities.
Moreover, the new HarmonyOS 3.0 version comes with better privacy and security features, the features make privacy secured and data access transparent. There are various other features that are mentioned below in the HarmonyOS 3.0 changelog.
Also, Check – Here's our first look at HarmonyOS 3.0 for smartphones [Video]
HarmonyOS 3.0 Developer Stable Changelog:
New Interaction
Service widgets, change freely:
Stackable: You can drag cards of the same size to form a stacking state, you can slide up and down to view the widgets or pull down and then slide left to delete, or drag to adjust.
Complete widget order or add to the home screen
Combinable: Cards of different sizes and application shortcuts can be sorted at will, and freely combined into a widget, the combined card supports resizing, or a combined template can be applied with one click.
Smart folders can be large or small There are more sizes and styles, and you can also adjust the size by long-pressing the folder. No matter how many or few applications are used, you can always find a suitable way to store them and use them more efficiently.
Home Screen space:
Smart home screen layout and personality are so simple: Pinch the home screen to intelligently layout the home screen, classify applications and widgets by color and function, and automatically generate a personalized home screen by one-click selection.
Celia Suggestions, Extraordinary: Celia Suggestions continue to upgrade wisdom, and can dynamically recommend services or applications by sensing time, scene, location, and usage habits, bringing you a convenient experience that saves time and effort.
Smart life in all scenarios
Super Device, more experience:
Super Device is fully expanded to support more types of devices. Various devices can be flexibly combined, interconnected, and coordinated, and devices with different HUAWEI IDs can also be quickly interconnected so that the advantages of each device can be freely invoked.
Broadcast control center, broadcast control is more convenient:
Added support for connecting two pairs of Bluetooth headsets at the same time, one song, two people can enjoy, and listen to the beauty together. In addition, a multi-device remote control function has been added, which can easily control the music playback of nearby speakers through the broadcast control center of the mobile phone (currently only some headphones and speakers).
Performance power consumption
Super Frame Game Engine: The super frame game engine is further upgraded, which reduces energy consumption by intelligently scheduling CPU and memory resources.
Privacy & security:
Privacy Center: Provide you with a general dashboard of all application permission behaviors, and proactively provide privacy protection suggestions for possible risks.
Security Center: You can check the security status of the current device or other devices with the same HUAWEI ID at any time, proactively help you identify problems, and provide protection suggestions, making device security easier.
Barrier-free experience
Visual Aid: Added image description, text recognition, and other functions, which can inform the features and positions of people or objects recognized in the scene, the text content recognized in the reading environment, and describe the people appearing in the camera lens through voice broadcast.
Hearing Aid: Added vocal enhancement function to tune the sound by enhancing the clarity of human voices in the environment, calls, and media to make the sound heard more clearly Supports quick connection with hearing aids, can quickly discover nearby hearing aids via Bluetooth and Easy pairing and connection.
Here's our first look at HarmonyOS 3.0 for smartphones [Video]
HarmonyOS 3 beta 3 is here for Huawei Mate Xs 2
Huawei Mate Xs 2 – the most flexible screen users can now opt for the ultimate HarmonyOS 3 new beta version. Huawei released the HarmonyOS 3 beta 3 for the Mate Xs 2 users with a number of optimization.
The HarmonyOS 3 comes in September 2022 security update to protect the security to avoid bugs from the system and affecting your smartphone safety in terms of functioning.
However, the patch also improves the stability of the internal system with more than 60 fixes. Therefore, a moderate-sized pack of security and optimization is moving toward your smart tablet.
Additionally, the update makes it easier to handle the device's cleaning processes. This is the key component that the company is including in every device's third beta deployment. The task card that continuously accumulates cache files and other useless data is what this cleaning management ultimately pertains to.
Before updating the new HarmonyOS 3 beta update on your Huawei Mate Xs 2 do note that your smartphone is running over the HarmonyOS 3.0.0.118 build version to update over the HarmonyOS 3.0.0.126 build version.
Changelog:
Optimize the application task card cleaning function
Incorporate the September 2022 security patch to enhance the phone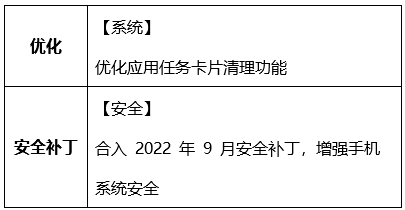 Compatible models:
Huawei Mate Xs 2 (PAL-AL00)
Mate Xs 2 Collector's Edition (PAL-AL00)
HarmonyOS 3 Beta 3:
The new HarmonyOS 3 beta version will bring you one step closer to its stable release. And it happened for the very first time with HarmonyOS 3 beta released with a security patch update.
Meanwhile, the September 2022 security patch helps your device to patch all the security gaps from the previous version of HarmonyOS 3 beta. We recommend you update this new version on your Huawei Mate Xs  2 smartphone as soon as it reaches your device.
Notably, the update will not delete or erase your data but it is still recommended that you back up all the important data on the close before the updating and confirm the backup content to some third parties.
Huawei HDC 2022 event postponed to November 4th
Today, Huawei has made some official statements regarding the 2022 Developer Conference and the upcoming HarmonyOS technology. Yes, after HarmonyOS 3.0 interface, something more surprising is going to hit the consumer surface soon.
The Chinese manufacturer has shared a post on its several Weibo channels and official sites for the 2022 Developer Conference. Accordingly, the news begins with an apology statement for delaying this thoughtful event for a few days more.
Yes! Initially, the company scheduled the event from October 21st to October 23rd. However, now the date has shifted one week ahead which is November 4th to November 6th. Though there is a change in the date, but that does not affect the ticket purchase rights.
Ahead, the company states that in the recent few years, Huawei and its partners have made genuine efforts to blaze a better life and user experience. Consequently, Huawei Developer Conference has remained a significant and constant proof of these efforts.
Undoubtedly, these efforts will continue in the time ahead.
New HarmonyOS technology with HDC 2022!
Huawei has also informed the 2022 Developer Conference will introduce new HarmonyOS technology. The Chinese tech maker hasn't revealed much on this matter. However, the surety is that this dynamic tech will build a more convenient and effective development platform for the developers.
Besides, the company will share some innovative techniques and mechanisms in five major scenarios. For instance, smart homes, smart offices, audio-visual entertainment, smart travel, and sports health.
Further, there will be big coffee gatherings, rich developer activities, and various contests for showing skills. Events like the Huawei Hetu game, lakeside music festival, and more will also be a part of this iconic conference.
Here are the timings and venues for some prominent events:
Below you can check the concurrent plans (planned)
Conference Keynote: Introduction of innovative applications to build an efficient and easy-to-use developer platform.
Time : October 21, 2022 (14:30 – 17:00)
Venue: Dongguan Basketball Center
Developer Keynote: Revealment of convenient UI components, new program framework, high-end SDK, testing, listings, distribution, and operations, the experience of HarmonyOS application, and more.
Time: October 22, 2022 [10:00 am]
Venue: Dongguan Shongshan Lake Xiliu Beipo Village
Pine Lake Dialogue: Invite industry leaders to focus on HarmonyOS, HarmonyOS Connect, and other industry topics, and have a dialogue with the future.
Time : October 22, 2022 [14:00 – 17:00]
Venue: Hyatt Regency Dongguan Shongshan Lake
[Source]
Yep! Huawei MatePad 11 users get HarmonyOS 3 beta 3 with September 2022 patch
Huawei recently released the HarmonyOS 3 beta 3 update for the Huawei MatePad 11 with a September 2022 security patch. The ability to protect any beta version with a monthly security patch guard is truly a wonderful step from Huawei.
Meanwhile, the third beta of HarmonyOS 3 will not bring any additional features, but it brings optimization for the ongoing function that performance lagging and latency issues in your MatePad 11.
Notably, the new version of HarmonyOS 3 for the Huawei MatePad 11 is updated over the current HarmonyOS 3.0.0.116/118 built version.
Version number:
Adapted model:
Huawei MatePad 11 WiFi version (DBY-W09) users are compatible grab this new HarmonyOS 3 beta version.
HarmonyOS 3 beta 3 for MatePad 11 detailed changelog:
It optimizes the Smart multi-window feature experience: How this feature works
This feature enables you to carry out unique gestures that improve device performance. Its ability to swipe and drag, access to floating windows, rapid reduction and maximization choices, and more.
Optimize the application task card cleaning function
It helps to clean the function when your device is overloaded and subsequently starts to lag. However, if your device running memory storage space is insufficient, the app may freeze while being used by Huawei MatePad 11.
Optimize the system stability of some scenario
The system layer security upkeep promises that the operating system functions properly and supports stable services on your tablet.
Incorporate the September 2022 security patch to enhance system security
Well, the September 2022 security patch update for the devices brings a number of bugs and vulnerability fixes, to let the users give a better performance.
Update Notes:
Huawei MatePad 11 users should note that the update will not erase your data, but it's recommended to take a backup of all the essentials. Alongside this, due to their third-party status, some apps may not operate as intended following the upgrade. Do not panic, simply update those programs to the most recent version.