Android 11 Beta 1: Here are all of the new features
Google has officially released the Android 11 Beta 1. This new beta software comes with new features, customizations, UI advancements, and system optimizations for better user experience.
Google's Android 11 themed on three key areas such as simplifying communication features, allowing quick access to all smart connected devices and giving users more control over their privacy.
Let's check the features in more detail:
People-Centric:
Android 11 is more people-centric and expressive, reimagining the way we have conversations on our phones, and building an OS that can recognize and prioritize the most important people in your life:
Conversation notifications appear in a dedicated section at the top of the shade, with a people-forward design and conversation specific actions, such as opening the conversation as a bubble, creating a conversation shortcut on the home screen, or setting a reminder.
Bubbles help users to keep conversations in view and accessible while multitasking. Messaging and chat apps should use the Bubbles API on notifications to enable this in Android 11.
Consolidated keyboard suggestions let Autofill apps and Input Method https://developer.android.com/preview/overview#timeline Editors (IMEs) securely offer context-specific entities and strings directly in an IME's suggestion strip, where they are most convenient for users.
Voice Access, for people who control their phone entirely by voice, now includes an on-device visual cortex that understands screen content and context and generates labels and access points for accessibility commands.
Controls:
The latest release of Android can now help you can quickly get to all of your smart devices and control them in one space:
Device Controls make it faster and easier than ever for users to access and control their connected devices. Now, by simply long pressing the power button, they're able to bring up device controls instantly, and in one place. Apps can use a new API to appear in the controls.
Media Controls make it quick and convenient for users to switch the output device for their audio or video content, whether it be headphones, speakers, or even their TV. You can enable this today from Developer Options, and it will be on by default in an upcoming Beta release.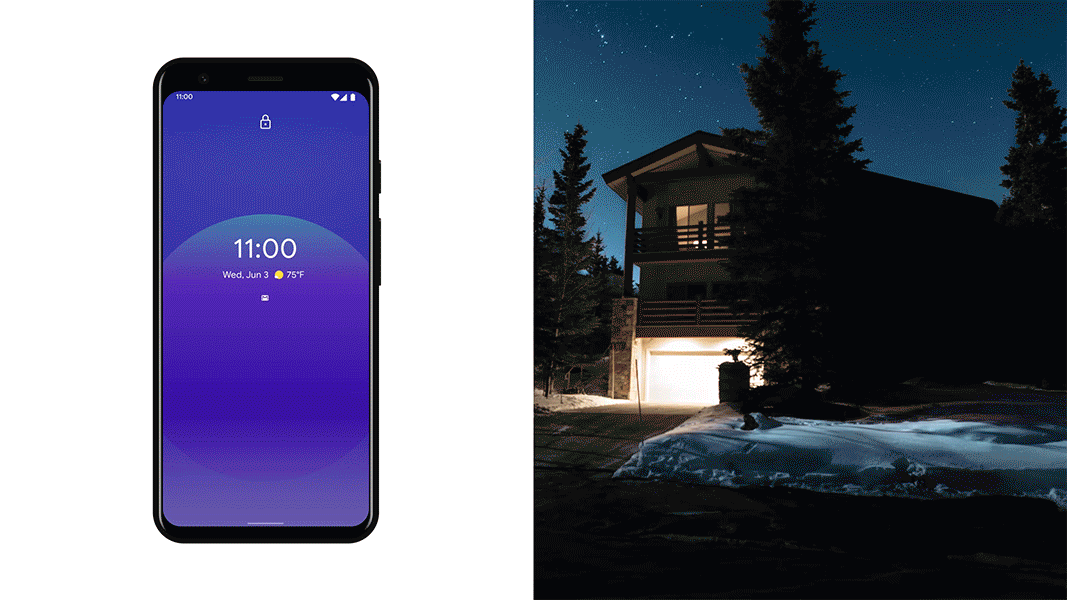 More Privacy Feature: 
In Android 11, Google is giving users, even more, control over sensitive permissions and working to keep devices more secure through faster updates.
One-time permission lets users give an app access to the device microphone, camera, or location, just that one time. The app can request permissions again the next time the app is used.
Permissions auto-reset: if users haven't used an app for an extended period of time, Android 11 will "auto-reset" all of the runtime permissions associated with the app and notify the user. The app can request the permissions again the next time the app is used.
Background location: In February, Google announced developers will need to get approval to access background location in their app to prevent misuse. Google giving developers more time to make changes and won't be enforcing the policy for existing apps until 2021.
Google Play System Updates, launched last year, lets us expedite updates of core OS components to devices in the Android ecosystem. In Android 11, Google more than doubled the number of updatable modules, and those 12 new modules will help improve privacy, security, and consistency for users and developers.
Android 13 Roadmap: Beta/Stable Launch Date
Update: Stable Android 13 to launch in September
Google fans are eagerly looking forward to tasting a new experience with Android 13. But seems like the consumers have to wait till September. That gets clear on the official page of Google that reads the release notes and details of the upcoming version of Android.
Read More: Google Android 13 to launch in September
Android 13 is about to launch: Google
Today, Google has officially confirmed that Android 13 is about to launch. The announcement came via the official developer blog simultaneously rolling out Android 13 beta, the final beta OTA ahead of the stable release. Read More
Android 13 beta 3 has started rolling out, and soon Google will confirm the release date of the respective software with a stable version. However, new features with the beta updates are alluring the users to experience stable and complete firmware.
Up to this point, Google has served two developer previews and four beta updates of Android 13. A few days back, the US manufacturer pushed off the third beta of Android 13, intended for Pixel users. After the accomplishment of a stable beta, the company will surely roll it out to other consumers.
Yet more of the beta updates, the users are looking forward to the main software release. Hence, here we are displaying the roadmap that hints at the schedule of Android 13.
Android 13 RoadMap: Beta/Stable Release Date
In comparison to Android 12, the Android 13 rollout exhibits a shorter timeline. The company has already thrown out the third round of the update among the users. Although, users might get one more beta update before the final release.
Furthermore, the next beta update could launch in the month of July. But who knows, we may get some more tweak update points in between.
To summarize, we can say that, the Android 13 operating system could take place in August 2022 among the users. Till then, users can enjoy the third beta of the forthcoming version of Android.
Users can install the latest beta update. But since it is a beta pack, it doesn't promise complete stability of the software. Hence, install the software at your own risk.
|| Source ||
These phone makers will rollout Android 13 [List]
On August 15, Google launched Android 13 for the global Android devices and also announced the supported smartphones that will rollout this major Android version later this year.
Starting today, Android 13 is available to download on Pixel devices via OTA and manual flashing. However, Android 13 will come to devices from the following phone makers:
Samsung
Asus
Nokia
iQOO
Motorola
OnePlus
Oppo
Realme
Sharp
Sony
Tecno
Vivo
Xiaomi
That's not it, Google has also confirmed that this Android version will expand further among Android phone users.
Beta and rollout:
Back in February, the first preview build was published for Android 13 developers. After that Google released a number of developer test versions for the corresponding testers including the public testers.
Alongside, Android 13 was also announced in beta for several third-party OEMs. However, earlier this month, the Android 13 beta has been opened for big supporters such as Samsung.
Android 13 Features:
This new Android version comes with a number of new features including the new themed icons, which now completely adopt the color of the wallpaper and look better than Android 12.
Android 13 brings in a brand new functionality called per-app language, which allows you to translate or run an app based on your language preference. Rather than the system language.
There are some improvements made to the on-screen media controls for both small and large screen devices.
Digital Wellbeing has been one of the useful features of the Android ecosystem and it'll now allow you to customize Bedtime mode with wallpaper dimming and a dark theme. The screen option will also help your eyes to adjust the dark mode when you are about to sleep and get back to sleep if you wake up and check your phone at midnight.
There are many new functionalities that have been added to the security features as well as better controls over notifications. There's a lot more to explore in Android 13 and these will expand for various Android phone makers as the testing proceeds.
Android 12 is only used by 13.3 percent devices, as Android 13 moves to launch
Android users are eagerly waiting to taste a new experience with the upcoming version of Android. As per the gossip, Google has implemented many new and surprising elements to Android 13. While the company is still giving some last-minute touch-ups to the stable firmware, the new info reveals that only 13.3 percent of devices are now using the Android 12 interface.
That's right. Eventually, Google updated its Android distribution report at the beginning of this month. On moving into depth, we found that only 13.3 percent of device users rely upon the previous system, that is the Android 12.
Alongside, the company has also mentioned the bars of other Android versions. It's worth mentioning that the other versions of Android are grabbing more attention than Android 12. For instance, Android 11 is currently available on 27% of devices.
Meanwhile, Android 10 and Android 9 are following the lead in second and third position with 22.3% and 14.5% respectively. Even years later, the older versions of Android are fully capable of beating the demands of the latest and new system versions.
On the flip side, Google's report also describes the total distribution number of Android versions that have climbed up to 99.8 percent in August. The remaining 0.2% might be the achievement level of Android 12L. Alternatively, Android 12L has its own API levels and has provided various improvements and additions to the large screen devices.
Older Android Versions are more popular!
Well, that shows the popularity of older versions of Android among users. Though Android 12 and above-released versions carry several things to explore. Yet, consumers in the market prefer to depend on the old stable versions. This might be a matter of convenience and fear of facing bugs and issues due to new software.
So far, Google has not mentioned the distribution number of Android 12 for four months. However, the company brought it down to the users just before the launch of Android 13. The reasons are still unknown as to why the company didn't give an appropriate report for such a long time.
There is still some time left in the release of the stable Android 13 interface. Will the new version be able to grab the full attention of the users? Or the users will choose the previous versions over revamped software? We will keep updating you on this aspect.
[Source]