Huawei Watch GT 3 Pro July 2022 HarmonyOS update is expanding to more users
Recently, Huawei has started pushing the July 2022 HarmonyOS optimization update for Watch GT 3 Pro wearables. Now the company is gradually expanding the latest firmware with numerous optimizations to more users in the home market.
Alternatively, the term optimization here defines a handful of improvements to the respective device. And the most significant one is the rectification of the heart rate status. Yes, the new July 2022 HarmonyOS update for Huawei Watch GT 3 Pro optimizes heart rate monitoring.
Thus, users will get an accurate and detailed report of their heart rate during exercise. This also put an impact on the health status of an individual accordingly. Following the lead, the update displays the heart rate and tracks the sleeping activity and Sp02 (peripheral capillary oxygen saturation) more effectively and coherently.
The list doesn't get a full stop here. The new firmware also optimizes the Bluetooth connectivity and watch's response timing while replying to a Bluetooth call. To your surprise, you will also find a newly designed icon for the Bluetooth status when using the function.
In addition to these optimizes, the update also overhauls the issue of the message where texts were appearing incorrectly in some languages.
Software Update Version
The Chinese tech maker is expanding the update to more corresponding device owners residing in China. Consequently, Users can identify the update with build version 2.1.0.389. Further, they have to install an update package with a size of 91.61 Megabytes.
Below you can check the changelog and new enhancements to the wearable device:
Full Changelog:
Optimizations:
Optimizes the accuracy of heart rate monitoring during exercise
Optimized Bluetooth connectivity and added new status icon usage
Improves the display of heart rate, sleep, Sp02, and stress cards
Optimizes the watch's response time when answering Bluetooth calls
Fixes:
Fixed the issue where messages were displayed incorrectly in some languages.
If you want to send us Tips, Update Screenshots, or a Message? connect with us here:
Screenshots@huaweicentral.com
Tips@huaweicentral.com
Message us on Twitter
[Source]
Huawei P30 series will receive HarmonyOS 3 next year
Huawei P30 and P30 Pro users are enjoying two different software, the global one has EMUI and in China, it has HarmonyOS operating system. However, these prime devices will get the next big upgrade by next year.
According to the official rollout schedule, Huawei P30 and P30 Pro will get HarmonyOS 3 in 2023. Since Huawei is busy testing and releasing this software in recently released devices, Huawei P30 and P30 Pro will soon grab HarmonyOS 3 in the homeland.
Meanwhile, the global P30 models have already grabbed EMUI 12 and now they are also ready to get EMUI 13 as the next installment. However, Huawei is yet to confirm its stand on this matter.
Early:
Even though Huawei has announced to rollout of HarmonyOS 3 for P30 and P30 Pro next year but we may see an early beta testing by the end of this year. As the Chinese tech maker has completed HarmonyOS 2 rollout faster than what had been planned formally.
HarmonyOS 3:
Launched in July this year, HarmonyOS 3 is a major software upgrade for Huawei devices. As the rollout expands to hundreds of models, it comes with various improvements and new features over the past version.
Speaking of which, it has a new layout reorder for the best user experience of your phone's home screen. The HarmonyOS 3 further improves the super device feature to expand the supported platforms.
The cross-device screen projection has been optimized to project a Huawei phone or tablet on a big display such as a laptop or a monitor to support the view on a large view.
One of the biggest changes that Huawei has brought in with HarmonyOS 3 includes the new service widgets, which you can now stack over each other to save screen space or group them all with each other as a large folder.
Huawei has also increased the security and privacy section for smartphones and Huawei P30 and P30 Pro will also receive this new operating system.
HarmonyOS 3 beta 3 is here for Huawei Mate Xs 2
Huawei Mate Xs 2 – the most flexible screen users can now opt for the ultimate HarmonyOS 3 new beta version. Huawei released the HarmonyOS 3 beta 3 for the Mate Xs 2 users with a number of optimization.
The HarmonyOS 3 comes in September 2022 security update to protect the security to avoid bugs from the system and affecting your smartphone safety in terms of functioning.
However, the patch also improves the stability of the internal system with more than 60 fixes. Therefore, a moderate-sized pack of security and optimization is moving toward your smart tablet.
Additionally, the update makes it easier to handle the device's cleaning processes. This is the key component that the company is including in every device's third beta deployment. The task card that continuously accumulates cache files and other useless data is what this cleaning management ultimately pertains to.
Before updating the new HarmonyOS 3 beta update on your Huawei Mate Xs 2 do note that your smartphone is running over the HarmonyOS 3.0.0.118 build version to update over the HarmonyOS 3.0.0.126 build version.
Changelog:
Optimize the application task card cleaning function
Incorporate the September 2022 security patch to enhance the phone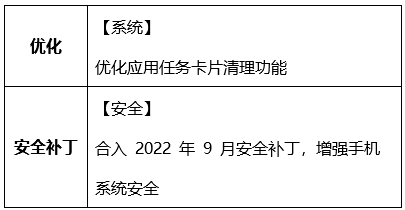 Compatible models:
Huawei Mate Xs 2 (PAL-AL00)
Mate Xs 2 Collector's Edition (PAL-AL00)
HarmonyOS 3 Beta 3:
The new HarmonyOS 3 beta version will bring you one step closer to its stable release. And it happened for the very first time with HarmonyOS 3 beta released with a security patch update.
Meanwhile, the September 2022 security patch helps your device to patch all the security gaps from the previous version of HarmonyOS 3 beta. We recommend you update this new version on your Huawei Mate Xs  2 smartphone as soon as it reaches your device.
Notably, the update will not delete or erase your data but it is still recommended that you back up all the important data on the close before the updating and confirm the backup content to some third parties.
Huawei HDC 2022 event postponed to November 4th
Today, Huawei has made some official statements regarding the 2022 Developer Conference and the upcoming HarmonyOS technology. Yes, after HarmonyOS 3.0 interface, something more surprising is going to hit the consumer surface soon.
The Chinese manufacturer has shared a post on its several Weibo channels and official sites for the 2022 Developer Conference. Accordingly, the news begins with an apology statement for delaying this thoughtful event for a few days more.
Yes! Initially, the company scheduled the event from October 21st to October 23rd. However, now the date has shifted one week ahead which is November 4th to November 6th. Though there is a change in the date, but that does not affect the ticket purchase rights.
Ahead, the company states that in the recent few years, Huawei and its partners have made genuine efforts to blaze a better life and user experience. Consequently, Huawei Developer Conference has remained a significant and constant proof of these efforts.
Undoubtedly, these efforts will continue in the time ahead.
New HarmonyOS technology with HDC 2022!
Huawei has also informed the 2022 Developer Conference will introduce new HarmonyOS technology. The Chinese tech maker hasn't revealed much on this matter. However, the surety is that this dynamic tech will build a more convenient and effective development platform for the developers.
Besides, the company will share some innovative techniques and mechanisms in five major scenarios. For instance, smart homes, smart offices, audio-visual entertainment, smart travel, and sports health.
Further, there will be big coffee gatherings, rich developer activities, and various contests for showing skills. Events like the Huawei Hetu game, lakeside music festival, and more will also be a part of this iconic conference.
Here are the timings and venues for some prominent events:
Below you can check the concurrent plans (planned)
Conference Keynote: Introduction of innovative applications to build an efficient and easy-to-use developer platform.
Time : October 21, 2022 (14:30 – 17:00)
Venue: Dongguan Basketball Center
Developer Keynote: Revealment of convenient UI components, new program framework, high-end SDK, testing, listings, distribution, and operations, the experience of HarmonyOS application, and more.
Time: October 22, 2022 [10:00 am]
Venue: Dongguan Shongshan Lake Xiliu Beipo Village
Pine Lake Dialogue: Invite industry leaders to focus on HarmonyOS, HarmonyOS Connect, and other industry topics, and have a dialogue with the future.
Time : October 22, 2022 [14:00 – 17:00]
Venue: Hyatt Regency Dongguan Shongshan Lake
[Source]