Huawei P40 Pro+: Specifications, Price and Availability
Huawei P40 Pro+ comes with a 6.7-inch curved display with pill type punch-hole design. The phone has a triple sensor on the front and five-camera setup on the back.
Below you check the Huawei P40 Pro+ Specifications, Price, and Availability.
HUAWEI P40 PRO+ Specifications:
Display: 6.58-inch FHD+ OLED display (2640×1200) up to 90Hz
Rear camera:
50MP Ultra Vision Camera (Wide Angle, f/1.9 aperture, OIS)
40MP Cine Camera (Ultra-Wide Angle, f/1.8 aperture)
8MP SuperZoom Camera (10X Optical Zoom, f/4.4 aperture, OIS)
8MP Telephoto Camera (3X Optical Zoom, f/2.4 aperture, OIS)
3D Depth Sensing Camera
Front camera:
32 MP Selfie Camera (f/2.2 aperture)
Depth Camera
IR Sensor
Software – EMUI 10.1 (Android 10)
SoC – Kirin 990 5G
RAM/Storage – 8GB RAM and 512GB Storage (expandable via nano memory card)
Dimensions: 158.2 x 72.6 x 9.0mm (226g)
Battery – 4200mAh (40W, 40W wireless charging)
Network – GSM, HSPA, LTE, 5G, Bluetooth 5.1, WiFi 6+, NFC
Location – GPS (L1 + L5 dual band), AGPS, Glonass, BeiDou (B1I + B1C + B2a Tri-band), Galileo (E1 + E5a dual band). QZSS (L1 + L5 dual band), NavIC
Sensors – Gesture Sensor, Gravity Sensor, Fingerprint Sensor, Hall Sensor, Gyroscope, Compass, Ambient Light Sensor, Proximity Sensor, Laser Sensor, Colour Temperature Sensor
Colors: Black Ceramic and White Ceramic.
Huawei P40 Pro+ Price and Availability:
Huawei P40 Pro+ 8GB/512GB priced at 1399 euros (1532 USD) will be available from June 2020.
The article will be updated with more pricing and availability information.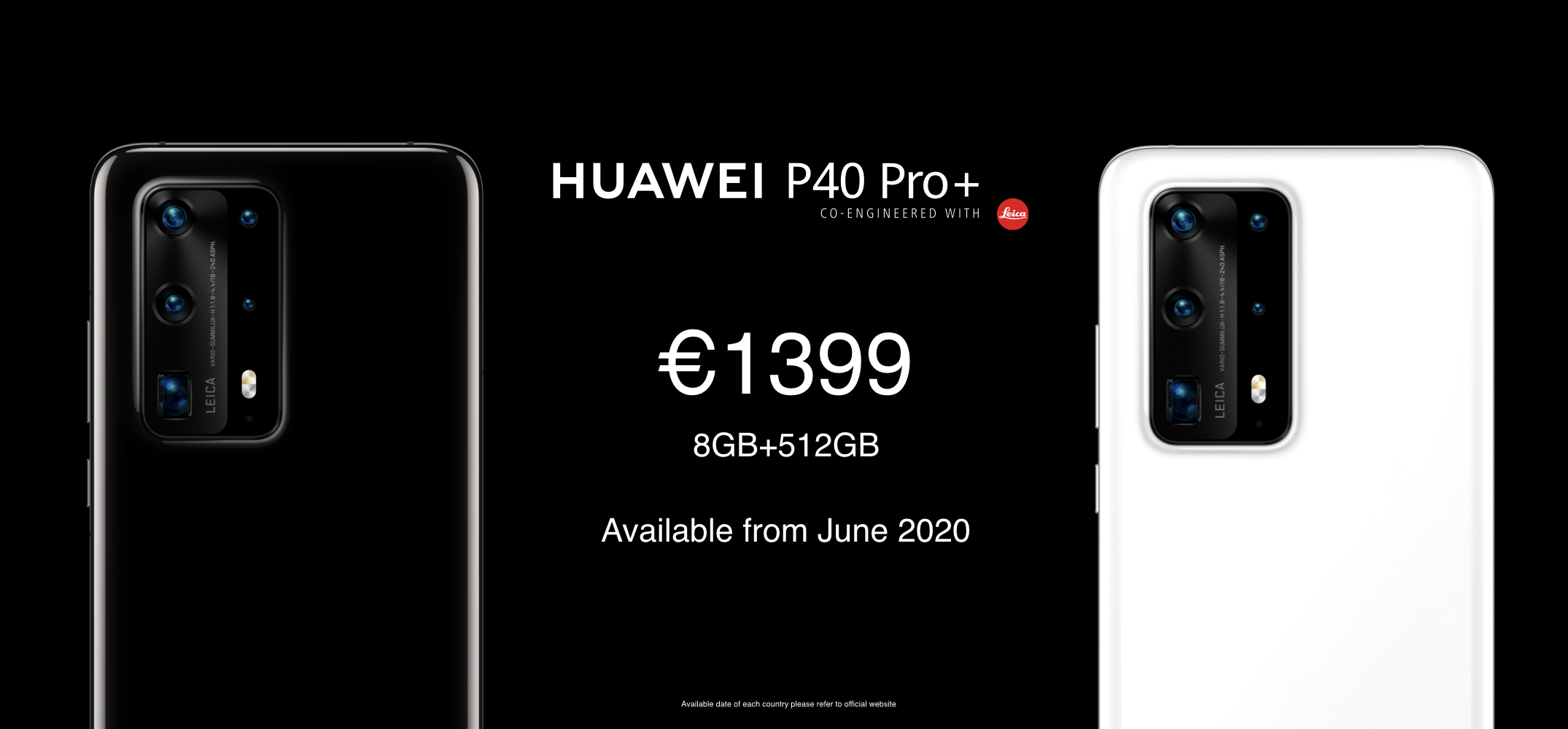 Will focus on building HarmonyOS and Euler operating system: Huawei
On the sideline of the Huawei Connect 2021 conference, Huawei's Rotating Chairman – Eric Xu took an interview with media personnel. The current Huawei head announced that the company will focus on building two of its operating system HarmonyOS and EulerOS.
HarmonyOS and Euler, both will be open source and the company will focus on building these two operating systems in the future. In terms of working terminology, HarmonyOS is used for smart devices, IoT, industrial use cases. On the other hand, Euler is designed for servers, edge computing, cloud, and more.
Xu also said that Euler is not new and was released in 2019. The opnEuler operating system was initially served with the Kunpeng platform and moving to become the futuristic infrastructure of the operating system.
EulerOS provides enhanced security, compatibility, and easy-to-use features along with high Reliability. It meets the increasing requirements of Linux OS in enterprise applications and provides a compelling choice of open IT platform for users.
HarmonyOS:
Launched at Huawei Developer Conference 2019, HarmonyOS comes with distributed technology and is designed to work across different devices for a seamless cross-device user experience. Initially, the operating system only supported smart TVs.
At HDC 2020, the Chinese tech maker introduced the second version of this OS – HarmonyOS 2.0. This time, Huawei added new platform support including smartphones, tablets, smart wearables, IoT devices, In-car systems, home consumer devices, and more.
However, the most interesting part of the HarmonyOS release comes in the form of smartphones adaptation. The smartphone version of this Huawei operating system debut on June 2, 2021.
Following the launch, the Chinese company began seeding it on the device. The roadmap is pretty huge consisting of over 100 models. As of September 23, 2021, Huawei has already installed HarmonyOS in 120 million smartphones.
HarmonyOS and EulerOS are currently in their early phase but the progress made by these operating systems comes in the form of major successes in a short amount of time. Therefore, bringing them upwards and developing their complete ecosystem will surely bring a boost to Huawei's business.
Huawei introduce 11 major scenario-based solutions at Huawei Connect 2021
On the second day of the Huawei Connect 2021 Event, the Chinese tech maker introduces 11 major scenario-based solutions for five business areas. The application scope mainly includes transportation, finance, energy, manufacturing, and some government sector.
Peng Zhongyang, Director of Huawei and President of Enterprise BG speaks out his view framing "Deepening Digital and Creating a Great Future Together". He presents current industrial digital transformation from different perspectives.
Director Zhongyang said, the company is helping its consumers to embrace digitalization through deep cultivation of scenarios, models, and partners. However, it's an iterative process, which is now becoming a main asset in the industry.
Related: Huawei Cloud UCS launched at 2021 Huawei Connect Event
In order to present industrial deep cultivation, Huawei brings 11 major scenario-based solutions covering five business sectors. As I mentioned earlier, the solution will apply in the government, energy, finance, transportation, and the manufacturing industry.
Let's take a brief introduction of each sector-
Government and Public Sector: Three core solutions for network management, auxiliary operations, and zero-trust security has been released for this sector. The company is help and initiating projects for smart cities.
Energy Sector: This Chinese firm brings two solutions for this sector. They will be applicable to smart power plants and gas stations and will help in bringing green, low-carbon, safe, and efficient zero-carbon smart energy systems.
Financial Sector: The Finacial Sector also gets two solutions for mobile payments to built a fully connected smart ecological finance system.
Transportation Sector: Smart airports, air traffic control, and united transportation are part of solutions designed to bring a convenient riding experience.
Manufacturing Sector: Smart car enterprise solutions are designed for the production industry. It'll help manufactures in profitable production with higher safety measurements and time-saving techniques.
Besides, Huawei is looking forwards to work with its partners and provide them all possible help in industrial practice. It wants to jointly solve the problems challenging the development.
About Huawei Connect Event:
This event has started on 23rd September and will end on 25th September. It's an online conference giving the viewers an opportunity to connect with industry leaders, experts, and the company's business partners. The theme of this year is "Dive Deep Into Digital" providing insights about AI, cloud, 5G, and other ICT technologies.
Huawei AI Speaker 2e with HarmonyOS 2 launched, priced at 199 Yuan
Yesterday, Huawei added the new Huawei AI Speaker 2e to its smart selection sound system collection which is currently open for pre-sale. Besides, other products such as Huawei Nova 9 series, New Watch Fit series, GaN charger, and more were also launched at the same event.
Coming back to this new speaker, it's designed in an elliptical shape with a fritillary white color. The company has provided the necessary control buttons on its upper edge. This speaker costs 199 Yuan and buyers can purchase it via Huawei's online flagship stores. As it's in the pre-sale period so the purchasing timeline is as follows-
Pre-book this new speaker until 31st October
Complete the rest amount on the 1st of November
Wait for the delivery after the final payment
 Huawei AI Speaker 2e:
Now let's discuss its specifications- 
The Huawei AI Speaker 2e has a 12.5-inch full-range shape covering 192 x 93 x 90 mm dimensions that weigh around 560 grams. Overall its slim design makes it fit even in a backpack to take along anywhere. In addition, it provides three types of controls and manages with voice commands, app instruction, and button controls.
This speaker is equipped with a 6W high-power full-range speaker that connects a passive radiator at the rear giving a deep bass. Aside from the music playback, its inbuilt microphone lets you attended the voice calls with a control button placed on the top.
The HarmonyOS 2 capabilities establish a one-touch easy connection. Most importantly, it has a Children exclusive mode for sound-based learning. Furthermore, it also supports WiFi dual-frequency and Bluetooth 5.2 connectivity.
Pricing and Avabalibity:
The pre-sale price of Huawei AI Speaker 2e is 199 Yuan (about 30 USD) with a 20 Yuan despite the amount providing a benefit for 30 Yuan. On the company's exclusive channels, buyers may also get other benefits such as gift points. Meanwhile, its first sale will start on 1st November.