Huawei P40 Pro+: Specifications, Price and Availability
Huawei P40 Pro+ comes with a 6.7-inch curved display with pill type punch-hole design. The phone has a triple sensor on the front and five-camera setup on the back.
Below you check the Huawei P40 Pro+ Specifications, Price, and Availability.
HUAWEI P40 PRO+ Specifications:
Display: 6.58-inch FHD+ OLED display (2640×1200) up to 90Hz
Rear camera:
50MP Ultra Vision Camera (Wide Angle, f/1.9 aperture, OIS)
40MP Cine Camera (Ultra-Wide Angle, f/1.8 aperture)
8MP SuperZoom Camera (10X Optical Zoom, f/4.4 aperture, OIS)
8MP Telephoto Camera (3X Optical Zoom, f/2.4 aperture, OIS)
3D Depth Sensing Camera
Front camera:
32 MP Selfie Camera (f/2.2 aperture)
Depth Camera
IR Sensor
Software – EMUI 10.1 (Android 10)
SoC – Kirin 990 5G
RAM/Storage – 8GB RAM and 512GB Storage (expandable via nano memory card)
Dimensions: 158.2 x 72.6 x 9.0mm (226g)
Battery – 4200mAh (40W, 40W wireless charging)
Network – GSM, HSPA, LTE, 5G, Bluetooth 5.1, WiFi 6+, NFC
Location – GPS (L1 + L5 dual band), AGPS, Glonass, BeiDou (B1I + B1C + B2a Tri-band), Galileo (E1 + E5a dual band). QZSS (L1 + L5 dual band), NavIC
Sensors – Gesture Sensor, Gravity Sensor, Fingerprint Sensor, Hall Sensor, Gyroscope, Compass, Ambient Light Sensor, Proximity Sensor, Laser Sensor, Colour Temperature Sensor
Colors: Black Ceramic and White Ceramic.
Huawei P40 Pro+ Price and Availability:
Huawei P40 Pro+ 8GB/512GB priced at 1399 euros (1532 USD) will be available from June 2020.
The article will be updated with more pricing and availability information.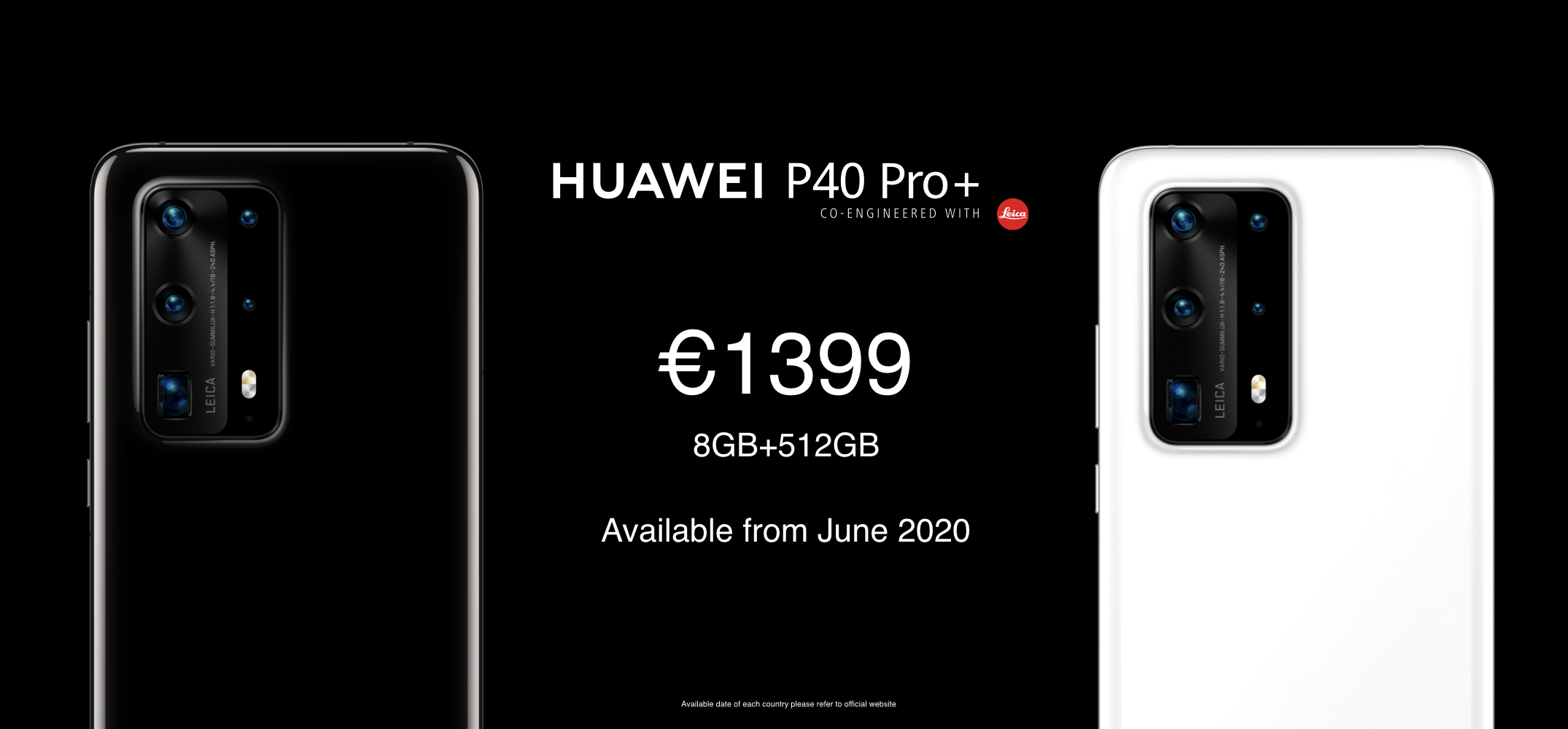 Huawei will continuously solve survival problems: Chairman
On September 26, Huawei attended the opening ceremony of STW 2022. At this event, the new rotating chairman of the company – Xu Zhijun delivered a short speech. He described how Huawei needs to make efforts in the field of research and development to solve environmental and survival problems.
Xu Zhijun reports that for confronting the survival problems in an extreme environment and developing a fruitful future, Huawei must continue its research and open innovation. Although, the company is trying its level best to prepare itself for future challenges. Yet, it is necessary to concentrate well on the technical field.
Over the last decade, Huawei has funded more than 845 billion yuan [118 trillion USD] in research and development. Besides, it marked an expenditure of more than 20 billion yuan [2.81 billion USD] in basic research.
However, the Chinese manufacturer managed to establish 86 basic tech labs and 172 joint laboratories for innovation. But, it's time to focus on the new emerging obstacles that could harm the growth and evolution of the company, if not prevented.
Some major challenges:
Xu believes that even after a lot of achievements, several hurdles are waiting ahead in this evolution journey:
Firstly the carbon neutrality goal. Challenges like poor stability in energy generation, low conversion efficiency, high energy storage price, less security, and mismanagement are standing in the mid-way.
Global computing power demand is facing 2-3 orders of magnitude in the next coming years. Supply Chain and other essential components require more enhancement.
Users are expecting the 5.5G network to exhibit an increase of 5 times in the uplink and downlink rates. What kind of core technology will the 6G network need is still a big question for the company.
Artificial Intelligence is still a topic of concern for many operators. Its security, interpretability, small samples, computing data, and more are not easy to handle.
And the list continues to a far distance. Though the company has come up with several things, there is still a lot to move on with. Xu says,
"We need to work together to fully release the productivity of all walks of life, give birth to new industries, new business forms, and new models, and promote the progress of the world."
[Source]
OpenHarmony 3.2 Beta 2 rolling out with three new improvements
Yesterday, OpenHarmony 3.2 Beta 3 version was released for the developers. The version is based on Beta 2 and comes with the following three improvements.
Enhancement of basic capabilities of standard systems
Standard system application development framework enhancement
Enhanced distributed capabilities of traditional systems
Check the OpenHarmony 3.2 Beta 3 complete details below.
Enhancement of basic capabilities of standard systems:
Pan sensor provides motor priority management capability. Multi-mode input provides features such as mouse style and speed settings, enhancement of mouse reporting events, configuration sequences to launch applications, and keyboard and mouse traversal.
The Misc service adds basic module features such as clipboard, upload and download, screen lock, and input method framework.
The kernel subsystem adds memory pressure notification to AMS, recycling priority management to support resident system services, and recycling priority management to support basic capabilities such as distinguishing extension status.
DFX supports faultloggerd mixed JS/Native stack printing, hilog domain whitelist management and log statistics functions, enhanced hisysevent and hiappeventssh event capabilities, and optimized hidumper memory classification information.
The unit testing framework has added parameterized data-driven capabilities, the UI testing framework has added the interface of throwing and complex gestures such as two-finger pinch capabilities. Xdevice has added the ability to collect device DFX logs after task execution is completed.
Added support for ES2021 in strict mode, modular support, runtime debugging and tuning enhancements, bytecode hot reloading, cross-platform support, etc. when compiling and running.
The account service has added user identity authentication service. The authority service has added support for precise positioning or fuzzy positioning, and other capabilities have been enhanced and added privacy management service.
The media subsystem supports audio decoding, audio encoding, video decoding, video encoding native interface, supports playback audio and video synchronization and startup time optimization, supports video hardware encoding and decoding capabilities based on HDI codec interface, supports distributed audio, volume, equipment Status management, device monitoring and broadcasting functions, support for distributed camera preview, photography and video recording.
Standard system application development framework enhancements:
Added DLP for events and notifications, added support for sending notifications from subsystems.
Support webview copy and paste, support basic audio and video playback, support HTTPS two-way authentication, and other capabilities.
Meta-capacity has added permission verification and rectification, startup rules, quick repairs, and cards that can be divided and combined.
Enhanced ArkUI component capabilities, enhanced resource and media query capabilities, optimized memory and performance, DFX capabilities, and enhanced toolchain capabilities.
DeviceProfile adapts to the automatic synchronization strategy of distributed databases and completes the collection of information.
Package management has added support for thumbnails and preview extensions. Some features have added support for cropping configuration, fool-proofing mechanism, and preset application-specific capability management. The installation process supports the hap package without decompression and supports a quick repair mechanism.
System service management supports cross-device loading of system services, foundation process restart, and recovery mechanism, distributed component management supports multi-user cross-device calls, and migration framework supports single-instance Ability migration.
Enhanced distributed capabilities of standard systems
The distributed database supports cross-device and cross-application sharing, RDB supports remote query/database encryption features and supports applications avatars. KVDB supports backup recovery/conditional synchronization/device online priority and centralized synchronization of system data.
Huawei and other companies certified for 100W fast charging power
Today, Huawei and some other tech manufacturers have gained fast charging certificates with a certified power of 100W. Apart from the smartphone devices, the certificates have approached some other charging equipment as well.
So far, we only heard that the general charging power of the new technology at the moment is 40W and it will gradually come to the count of 65W. However, the fast-charging certified power for Huawei and other partners is dynamically 100W.
Aside from smartphones, a few fast-charging chips, and charging products have also obtained these certificates. This is a good sign and indicates that soon consumers will experience an advanced way of powering up their devices.
Fast Charging: New Addition to the Technology field
Fast Charging is a new topic in the world of technology. Recently, the China Communications Standard Association and Telecom Terminal Industry jointly conducted a huge fast charging achievement conference in Beijing.
At this event, the cooperation released the first batch of fast charging certificates for 11 high-end products. These products consist of 4 terminals, 5 adapters, and 2 chipsets from 6 companies including Huawei, Oppo, Vivo, and Xiaomi.
As a major part of this event, all four tech giants also delivered a short speech on how this unified fast charging will bring a safer and more secure environment for consumers. Thereafter, the cooperations began the certificate distribution procedure.
New Charging Technology will take time to adapt!
The Chairman of the Telecommunications Terminal Industry Association – Shi Xiaoguang mentioned that the sudden change in the traditional charging technology can give rise to several problems. For instance interoperability issues in interfaces, protocols, cables, and more.
Consequently, these issues will not only harm the user experience but will also risk security. Hence, to maintain the charging ecosystem, the Telecom Association will continue to integrate with China Communications firm to promote and expand the fast charging technology in the field of technical application.
In this manner, the objective of bringing an efficient and universal charging technology to users will be fulfilled.
(Source)