HarmonyOS 3 beta 3 is here for Huawei Mate Xs 2
Huawei Mate Xs 2 – the most flexible screen users can now opt for the ultimate HarmonyOS 3 new beta version. Huawei released the HarmonyOS 3 beta 3 for the Mate Xs 2 users with a number of optimization.
The HarmonyOS 3 comes in September 2022 security update to protect the security to avoid bugs from the system and affecting your smartphone safety in terms of functioning.
However, the patch also improves the stability of the internal system with more than 60 fixes. Therefore, a moderate-sized pack of security and optimization is moving toward your smart tablet.
Additionally, the update makes it easier to handle the device's cleaning processes. This is the key component that the company is including in every device's third beta deployment. The task card that continuously accumulates cache files and other useless data is what this cleaning management ultimately pertains to.
Before updating the new HarmonyOS 3 beta update on your Huawei Mate Xs 2 do note that your smartphone is running over the HarmonyOS 3.0.0.118 build version to update over the HarmonyOS 3.0.0.126 build version.
Changelog:
Optimize the application task card cleaning function
Incorporate the September 2022 security patch to enhance the phone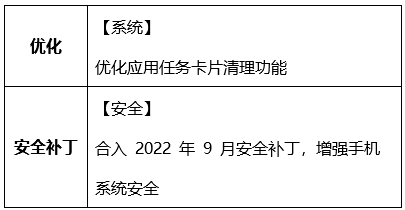 Compatible models:
Huawei Mate Xs 2 (PAL-AL00)
Mate Xs 2 Collector's Edition (PAL-AL00)
HarmonyOS 3 Beta 3:
The new HarmonyOS 3 beta version will bring you one step closer to its stable release. And it happened for the very first time with HarmonyOS 3 beta released with a security patch update.
Meanwhile, the September 2022 security patch helps your device to patch all the security gaps from the previous version of HarmonyOS 3 beta. We recommend you update this new version on your Huawei Mate Xs  2 smartphone as soon as it reaches your device.
Notably, the update will not delete or erase your data but it is still recommended that you back up all the important data on the close before the updating and confirm the backup content to some third parties.
Huawei AITO M5 and M5 EV will get HarmonyOS 3
During the Huawei P60 series launch event, Huawei Smart Car Business Cheif, Yu Chengdong announced that all AITO smart car models will get HarmonyOS 3.0 operating system by the end of this month.
HarmonyOS 3 for these AITO M5 cars will bring new features including a super home screen and smart car search. The net recommendation score of Huawei M5 car owners is 86.4%
Huawei also announced that the M5 and M5 EV high-end autonomous driving versions will launch in April, which won't need high-precision maps. Yu Chengdong said that Huawei should be far ahead in the field of the smart cockpit and smart driving.
HarmonyOS 3.1 launched with brand new lock screen
Today, Huawei launched HarmonyOS 3.1 and Huawei P60 series is the first smartphone to pack this new HarmonyOS operating system with a brand lock screen feature.
Yes, HarmonyOS 3.1 allows users to customize the lock screen with new options and always-on-display features. This version supports 3D dynamic weather widgets, which enable you to easily obtain time, weather, date, notifications, and other information with AOD.
This new HarmonyOS software also has a new software user experience designed for Huawei devices and it also supports new camera optimizations.
HarmonyOS 3.1 launched with an improved security and privacy system. It provides users with full lifecycle security control for background pop-up windows, hidden applications, background task execution, and more.
According to Huawei, the HarmonyOS operating system deleted over 3.6 million malicious applications and 200 million malicious attacks every day. This is a step to ensure that the smartphone remains safe in all conditions.
Additionally, HarmonyOS 3.1 lets you enjoy amazing animations that weren't part of HarmonyOS 3.0. The addition of these new features takes the entire user experience to the next level. Also, there are minor tweaks that are always ready to be explored.
Aside form Huawei P60 series, Huawei will also roll out this upgrade for more users very soon.
HarmonyOS 3.1: Here's what you can expect
A new HarmonyOS version will launch with the Huawei P60 series on March 23. And here's everything you can expect from this upcoming HarmonyOS 3.1 software and its specialties.
Aside from the new technological advancements, the Huawei P60 series will bring powerful camera capabilities to take amazing photographs on the go. However, a better hardware experience is connected to the software. That's why, users can take benefit from HarmonyOS 3.1 in various ways.
You can expect HarmonyOS 3.1 to come with major improvements and bug fixes for the entire HarmonyOS operating system. This new version has eye-catching animations with added fluidity and physics-based response.
The new animations reflect all around the UI and UX. That's why the difference between HarmonyOS 3.0 and 3.1 will be visible to all of the users.
HarmonyOS 3.1 brings an optimized control panel and it has new app shortcuts in case you need to jump on a certain app. The task execution between apps and the launch speed are also enhanced to provide fast feedback.
Other than these, Huawei is providing a developer-friendly environment, which allows them to deploy fast HarmonyOS 3.1 applications. For now, Huawei has not announced a rollout date for old devices but it could happen next month.
Moving ahead, we could expect Huawei to bring exclusive dynamic island notifications functionality for center-hole punch devices including the Huawei P60 Pro and Art variants.
Ahead of the HarmonyOS 4, this new upgrade will satisfy the consumer demand for a new change in the entire ecosystem.