Huawei P40: Specifications, Price and Availability
Huawei P40 sports a 6.1-inch display with pill type punch-hole design. The phone has a dual-sensor on the front and triple-camera setup on the back. The phone has a new design texture and runs EMUI 10.1 based on Android 10.
Below you check the Huawei P40 specifications, price, and availability.
HUAWEI P40 Specifications:
Display: 6.1-inch FHD+ OLED display (2340×1080) with punch-hole display
Rear camera:
50MP f/1.9 aperture Ultra Vision with RYYB, 4-in-1 pixel binning main camera
16MP f/2.2 Ultra-Wide Camera
8MP f/2.4 Telephoto camera with 3X optical zoom, OIS
Front camera:
32MP F/2.2 selfie camera
IR sensor
Software – EMUI 10.1 (Android 10)
SoC – Kirin 990 5G
RAM/Storage – 8GB RAM and 128GB Storage (expandable via nano memory card)
Dimensions: 148.9 x 71.06 x 8.5mm (175g)
Battery – 3800mAh (22.5W)
Network – GSM, HSPA, LTE, 5G, Bluetooth 5.1, WiFi 6+, NFC
Location – GPS (L1 + L5 dual band), AGPS, Glonass, BeiDou (B1I + B1C + B2a Tri-band), Galileo (E1 + E5a dual band). QZSS (L1 + L5 dual band), NavIC
Sensors – Gesture Sensor, Gravity Sensor, Fingerprint Sensor, Hall Sensor, Gyroscope, Compass, Ambient Light Sensor, Proximity Sensor, Laser Sensor, Colour Temperature Sensor
Colors: Black, Ice White, Silver Frost, Deep Sea Blue, Blush Gold.
Huawei P40 Price and Availability:
Huawei P40 8GB/128GB priced at 799 euros (879 USD) will be available from April 7.
The article will be updated with more pricing and availability information.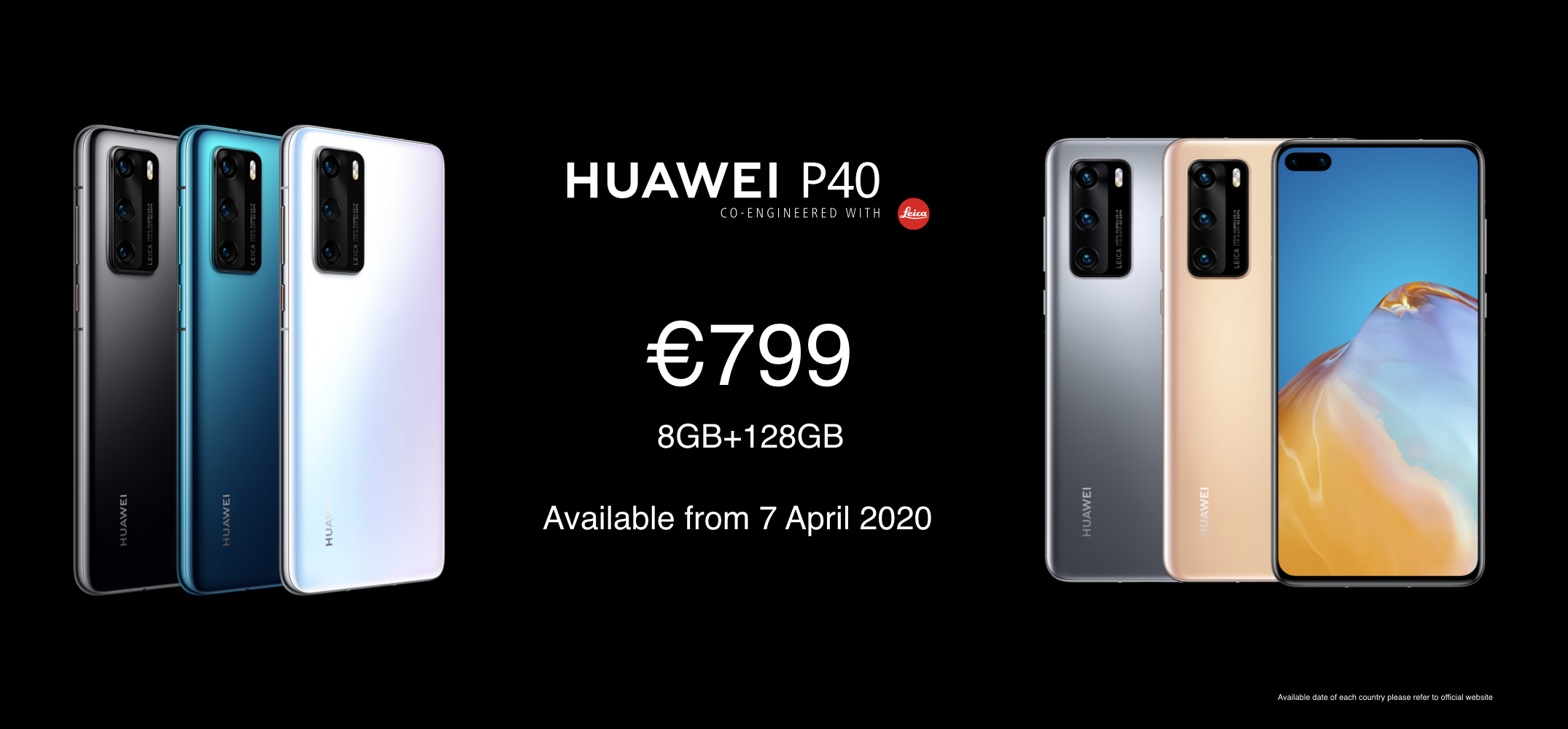 Huawei Mate 50 Kunlun display variants sold out, consumers need to wait until October
Huawei Mate 50 series is not going to leave the headlines space so easily. And why not, it is one of the most bashing devices in the history of smartphones. In the latest edition, the news is running regarding the sold-out scenario of Huawei Mate 50 Kunlun Glass variants.
Yes! Huawei Mate 50 series and especially its Kunlun Glass variants are so much popular among consumers that they sold out within seconds. However, every good thing has some negative impact and so has happened with the Mate 50 lineup.
The huge selling of the Mate 50 models brought a shortage in the units. Though the company increased the production capacity of the Mate 50 devices immediately after the sold-out result. Yet, the upcoming number of units was not enough to calm down consumer demand.
Hence, this supply chain will take some time to get back on the original track. According to the Weibo blogger @FactoryDirectorShiGuan, the Chinese tech giant has hyped the production capacity of the Mate 50 series Kunlun variants. But, the supply chain will be improved after mid-October.
On the flip side, the blogger also states that the rush will slow down till November. So, instead of paying a higher price for the Mate 50, users can keep patience till November to grab the device with its actual cost tag.
Huawei Mate 50 Kunlun Glass.
Well, there is no doubt why Mate 50 Kunlun Glass Edition is so favored among users. Consequently, it is one of the strongest glass protectors that secures your device from almost every external drop and damage.
Moreover, these glasses have qualified for the first Swiss SGS five-star drop-resistance certificate. In comparison to the normal screen protectors, these mechanisms use 108 microcrystalline raw materials in their manufacturing.
The Kunlun Display Shields are 10 times tougher than ordinary ones. But at this moment, these elements are a little away from the user's reach. Don't worry, just a few days more, and you will have your favorite Mate 50 version in your hands.
[Source]
Huawei Mate 50 Pro adds face mask recognition feature
Huawei Mate 50 series has been continuously receiving new features with new software updates. Recently, Huawei has added face mask support for the Mate 50 Pro via a new firmware rollout.
HarmonyOS 3.0.0.150 software version has been rolling out for the Mate 50 Pro users that brings face mask recognition support.
According to the description of this feature, face recognition works accurately when the face is not covered by anything. While wearing a mask, the feature will allow the device to unlock the phone with eye scanning. You just need to look at the Huawei Mate 50 Pro screen to enable the face mask recognition process.
The feature is available in settings and if the user is opt-in to the feature, you just have to tap the slider and give your consent.
Face Mask:
Due to the pandemic, most peoples wear masks mostly in outdoor conditions. In that case, they may require the phone's feature to make a payment or for other use cases. Hence, the phone's support for facial authentication could get denied but with a such new feature, you won't have to remove the mask.
Apple has already installed face mask support for face id in all of its iPhone devices since last year.
HarmonyOS 3.0.0.150:
This version of HarmonyOS 3.0 brings optimizations for system stability in certain situations to improve the phone's inner performance for a better user experience.
Yesterday, we noted HarmonyOS 3.0.0.137, which improved camera shooting effects, adds support for 3D avatar, and also brings system senior mode for the users.
Front camera:
Huawei Mate 50 Pro comes with a wide front notch that resembles the Mate 20 Pro. However, the notch contains various sensors face facial security purposes.
The front module includes a laser sensor, ToF 3D depth camera, 13MP selfie camera with ultra-wide angle capability, proximity sensor, light sensor, and flood illuminator. these all combine a powerful face id system that is secured and reliable.
After Huawei Mate Xs 2, one more external folding phone is coming
Do you like foldable phones? If yes, then here is something interesting for you. Finally, we are getting the smell of a new foldable device in the air. After Huawei Mate Xs 2, one more external folding screen phone is on its way for consumers.
As per the latest reports brought by the Weibo tipster @DigitalChatStation, Mate Xs 2 is not the last model to showcase the external folding screen technology. Soon, there will be a newcomer on this list with some bashing features.
On the flip side, the tipster also hints at vital key specs of the device. He reports that the forthcoming flagship model will equip the Snapdragon 8 Gen 2 processor which will deliver powerful performance. Besides, it will have a massive battery to accelerate the phone's life and a huge main lens at the back.
In comparison to the inner screen, this device will be light and thin in terms of weight. These are just the tweaks, while there could be some more hidden features that we will fetch in the time ahead.
It's worth mentioning that the folding device we are talking about is not from Huawei. Although it's not confirmed, some fans depict that this could be the impending Honor Magic V2. But, we still require an official statement on this matter.
Huawei Mate Xs 2
Huawei Mate Xs 2 is the latest and the most popular external folding phone on the market. With a weight of only 255g, it is the lightest foldable at present. As for the design, the phone adopts an ultra-light glass fiber, with an eagle-wing folding layout.
It is the first smartphone to feature a composite reinforced structure screen. Further, it carries a three-dimensional microfiber technology, and the color and texture are ingeniously combined. Concerned with the optical hood, the device sports a triple-cam framework at back with 50MP + 13MP + 8MP lenses.
But, as per the fresh information, the approaching model could also bring some outstanding characteristics and outlooks. In that manner, Huawei Mate Xs 2 will soon get a competitor in the market.
|| Source ||