Huawei P40: Specifications, Price and Availability
Huawei P40 sports a 6.1-inch display with pill type punch-hole design. The phone has a dual-sensor on the front and triple-camera setup on the back. The phone has a new design texture and runs EMUI 10.1 based on Android 10.
Below you check the Huawei P40 specifications, price, and availability.
HUAWEI P40 Specifications:
Display: 6.1-inch FHD+ OLED display (2340×1080) with punch-hole display
Rear camera:
50MP f/1.9 aperture Ultra Vision with RYYB, 4-in-1 pixel binning main camera
16MP f/2.2 Ultra-Wide Camera
8MP f/2.4 Telephoto camera with 3X optical zoom, OIS
Front camera:
32MP F/2.2 selfie camera
IR sensor
Software – EMUI 10.1 (Android 10)
SoC – Kirin 990 5G
RAM/Storage – 8GB RAM and 128GB Storage (expandable via nano memory card)
Dimensions: 148.9 x 71.06 x 8.5mm (175g)
Battery – 3800mAh (22.5W)
Network – GSM, HSPA, LTE, 5G, Bluetooth 5.1, WiFi 6+, NFC
Location – GPS (L1 + L5 dual band), AGPS, Glonass, BeiDou (B1I + B1C + B2a Tri-band), Galileo (E1 + E5a dual band). QZSS (L1 + L5 dual band), NavIC
Sensors – Gesture Sensor, Gravity Sensor, Fingerprint Sensor, Hall Sensor, Gyroscope, Compass, Ambient Light Sensor, Proximity Sensor, Laser Sensor, Colour Temperature Sensor
Colors: Black, Ice White, Silver Frost, Deep Sea Blue, Blush Gold.
Huawei P40 Price and Availability:
Huawei P40 8GB/128GB priced at 799 euros (879 USD) will be available from April 7.
The article will be updated with more pricing and availability information.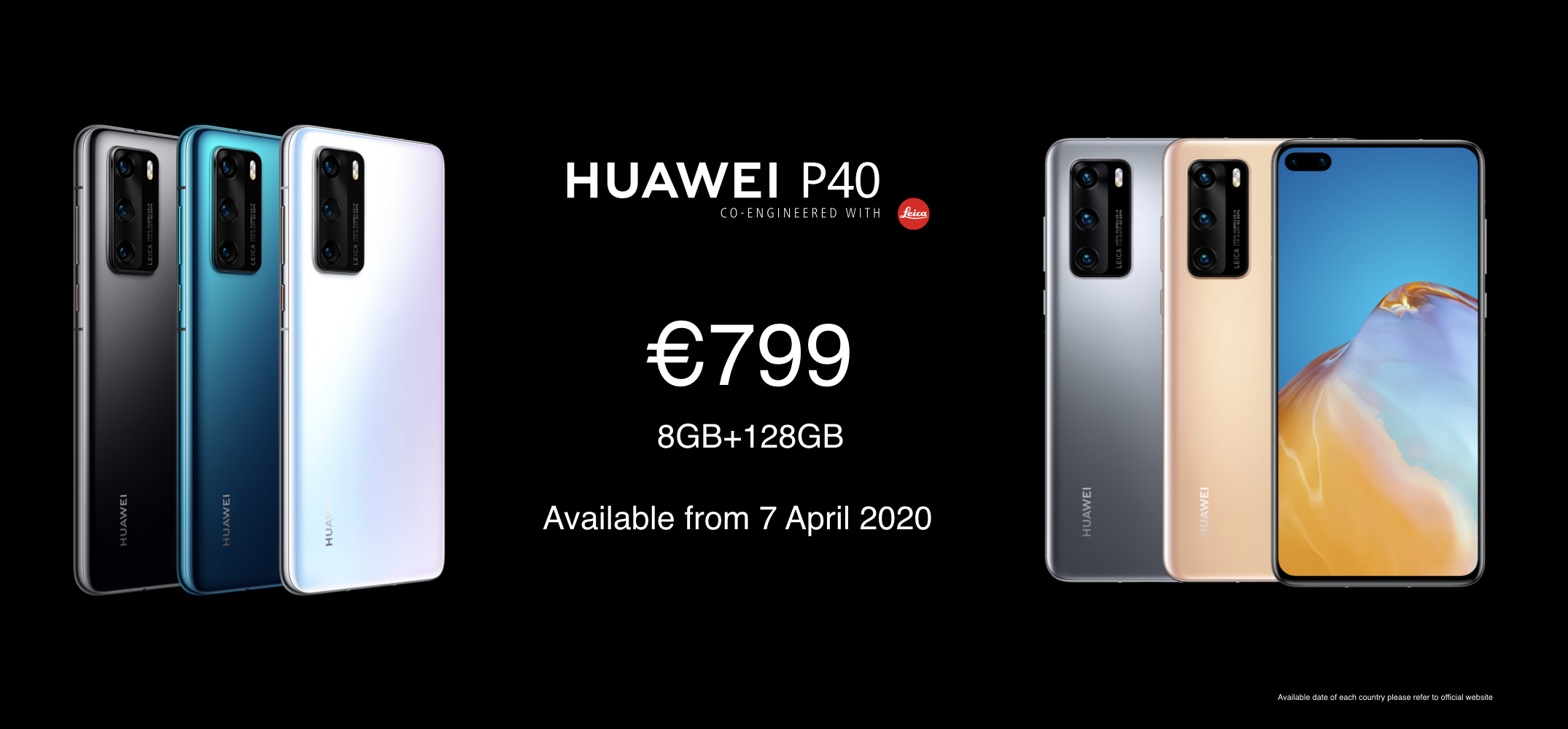 Huawei Mate 50 Pro+ might get cancelled: Tipster
It was reported that Huawei is preparing to launch three versions of the upcoming Mate 50 series but it seems like the company has made some changes to the plan. As the fresh inputs hint, the Huawei Mate 50 Pro+ version is likely to get cancelled among all of the launching models.
A well-known Weibo tipster has hinted that Huawei has recently made some changes in the Huawei Mate 50 series launch strategy, and it's revealed that the company might get the Pro+ version cancelled. If we look into our previous graph, we could come to this understanding of four models – three standard and one special edition.
Huawei Mate 50
Huawei Mate 50 Pro
Huawei Mate 50 Pro+
Huawei Mate 50 RS Porsche Design
However, with the removal of the Pro+ model, we will only find the Mate 50 and Mate 50 Pro in the realm of consumers along with the possible happening of the Porsche Design variant. A similar scenario has also happened with the Huawei P50 series, which came in standard and Pro models, while the P40 series had three variants.
More on this matter, the tipster suggests that all of the Huawei Mate 50 series models will equip 4G network access and can access 5G via external cases. That was launched previously for the Huawei P50 Pro devices. However, it could directly reflect that Huawei is keen to heavily utilize the Qualcomm Snapdragon chipsets for this upcoming flagship lineup. Moving on, the camera design has been changed a bit as compared to the last generation but only slightly.
The latest changes may have been related to the supply chain issues and the Chines tech maker is working to resolve them on time to get the device to the launch stage.
As for now, Huawei has not confirmed the launch date for the Huawei Mate 50 series but we could assume that this flagship could unveil in August this year.
Learn more about the Huawei Mate 50 series in the article linked below.
60MP selfie camera is coming with Huawei Nova 10 phones
Huawei Nova series is designed especially for young people and young people like selfies. Therefore, Huawei is bringing a massive 60MP selfie camera with the upcoming Huawei Nova 10 series that will surely improve the selfie experience of the corresponding smartphone owners.
According to the information, both Huawei Nova 10 and Nova 10 Pro models will be equipped with a 60MP selfie camera. However, the pro model doesn't only come with a 60mp selfie camera but is also supported by an 8MP depth camera to take portrait selfies. That's not it, the 60MP camera is just an ordinary camera, it's an ultra-wide-angle camera, so can you fit in an entire group of people for selfies without any worries of cropping or zooming.
In terms of specifications, Huawei Nova 10 has a 60MP ultra wide-angle with an f/2.4 aperture. On the other hand, the Huawei Nova 10 Pro comes with a 60MP ultra wide-angle (f/2.4) + an 8MP depth portrait camera (f/2.2 aperture). As revealed in the promo content, the phone is capable of taking 4K video front camera recording at a high frame rate and there may be some new features that have been installed on the camera app for this particular device.
This is the first time when a smartphone maker is using more than 32MP of camera pixels in the selfie camera. We're hoping that such a camera megapixel count will increase the quality of the selfies.
Comparing it with last year's Huawei Nova 9 Pro, the phone had a dual 32MP camera system including 32-megapixel ultra-wide-angle camera (f/2.4 aperture) and a 32-megapixel portrait camera (f/2.0 aperture). There are various camera features that come with the Nova 9 Pro such as Short video, micro-movie, slow door, super wide-angle, night scene mode, portrait mode, video, slow motion, time-lapse photography, panorama mode, filter, selfie mirror, watermark, smile capture, voice-activated photo and time-lapse.
If you want to learn more about the Huawei Nova 10 series, please visit the link below.
Huawei Mate 50 Pro camera could be better than P50 Pro
Huawei Nova 10 and Nova 10 Pro leaks are out in the open as the phone lineup proceeds toward the launch on July 4th. However, Huawei is working on new flagship – The Mate 50 series the background that will come with a better camera than Huawei P50 Pro.
In the past week, we've come to learn that the Huawei Mate 50 series will equip a new Kirin processor – Kirin 9000S. Although, we don't have any official confirmation on this matter but we could assume that the phone lineup will have a limited quantity of this Kirin chipset. While rest of the Mate 50 stock will be powered by Snapdragon chipsets.
In addition, it's revealed that the company has improved Huawei Mate 50 Pro's imaging system and it would be better than last year's Huawei P50 series camera. There are also some changes made to the light intake of the phone. The construction of the new camera will make it easy to high-quality images with better details.
Huawei P50 Pro comes with a quad-camera system consisting of a 50 MP True-Chroma Camera (Color, f/1.8 aperture, OIS), 40 MP True-Chroma Camera (MONO, f/1.6 aperture), 13 MP Ultra-Wide Angle Camera (f/2.2 aperture) and 64 MP Telephoto Camera (f/3.5 aperture, OIS), support AF.
Huawei Mate 50:
According to previous leaks and reports, the Huawei Mate 50 series is likely to retain the three models theory from its predecessor. As such, the phone models could be  – Huawei Mate 50, Mate 50 Pro, and Mate 50 Pro+. As mentioned before, the company is likely to use the Snapdragon processor heavily on this flagship as the Kirin stock is running out.
Huawei Mate 50 lineup will be packed with the HarmonyOS 3.0 operating system, which comes with better performance as compared to the last generation of the HarmonyOS software. Furthermore, the Chinese tech maker has ensured that there should be a sufficient quantity of this series for the consumer, as it has brought in new suppliers to resolve some issues.
We currently, don't have an exact input on the launch date of the Huawei Mate 50 series but it was expected to happen in July, which is later postponed to somewhere in August. All and all, we'll keep you posted with further development.