Huawei Nova lite 3+ with GMS will launch on May 29 in Japan
Huawei has officially confirmed that it'll launch the Huawei Nova lite 3+ in Japan on May 29, 2020. The phone proceeds last year's Huawei Nova Lite 3.
Huawei Nova lite 3+ is the rebranded version of Huawei P Smart 2020, launched earlier this month in Europe. And the company has listed this phone on Huawei Japan website but yet to reveal the price. While in Europe, it retails at 199 euros (23,419 yen).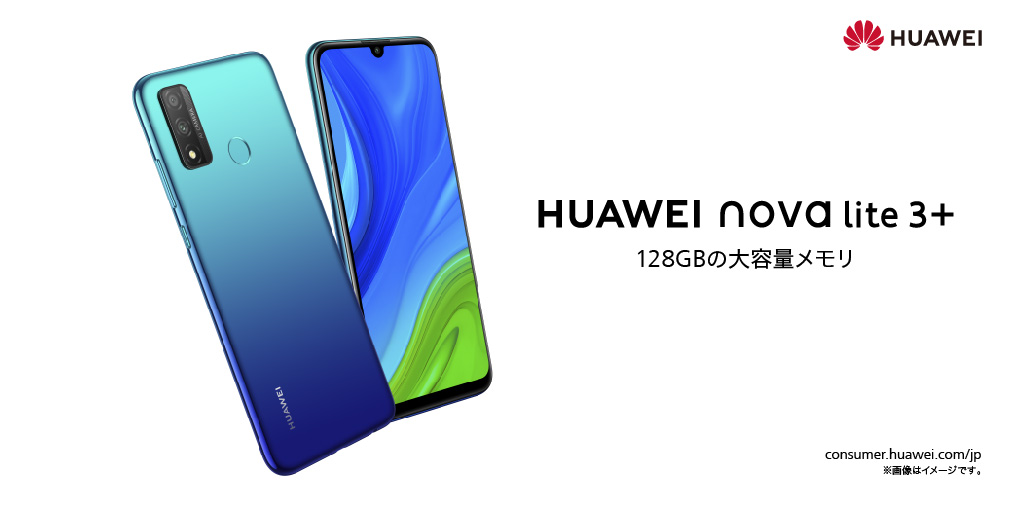 Huawei Nova Lite 3+:
Huawei Nova Lite 3+ sports a 6.21-inch LCD FHD+ display with waterdrop notch, powered by Kirin 710 chipset, and a storage model of 4GB RAM + 128GB internal storage as well as microSD expansion.
On the rear side, it has used a dual-camera setup of 13MP main camera and 2MP depth camera. On the front, an 8MP camera featured for selfies.
Huawei Nova Lite 3+ packs with 3400mAh battery + USB Type-C charging, Bluetooth 4.2, NFC, and a 3.5mm headphone jack. From the software side, it runs EMUI 9.1 (Android 9) and supports Google apps.
It expands at 155.36 x 73.55 x 8.2mm and weighs at 163g, features 3.5mm headphone jack, and rear fingerprint scanner. It'll be available in Aurora Blue and Midnight Black.
60MP selfie camera is coming with Huawei Nova 10 phones
Huawei Nova series is designed especially for young people and young people like selfies. Therefore, Huawei is bringing a massive 60MP selfie camera with the upcoming Huawei Nova 10 series that will surely improve the selfie experience of the corresponding smartphone owners.
According to the information, both Huawei Nova 10 and Nova 10 Pro models will be equipped with a 60MP selfie camera. However, the pro model doesn't only come with a 60mp selfie camera but is also supported by an 8MP depth camera to take portrait selfies. That's not it, the 60MP camera is just an ordinary camera, it's an ultra-wide-angle camera, so can you fit in an entire group of people for selfies without any worries of cropping or zooming.
In terms of specifications, Huawei Nova 10 has a 60MP ultra wide-angle with an f/2.4 aperture. On the other hand, the Huawei Nova 10 Pro comes with a 60MP ultra wide-angle (f/2.4) + an 8MP depth portrait camera (f/2.2 aperture). As revealed in the promo content, the phone is capable of taking 4K video front camera recording at a high frame rate and there may be some new features that have been installed on the camera app for this particular device.
This is the first time when a smartphone maker is using more than 32MP of camera pixels in the selfie camera. We're hoping that such a camera megapixel count will increase the quality of the selfies.
Comparing it with last year's Huawei Nova 9 Pro, the phone had a dual 32MP camera system including 32-megapixel ultra-wide-angle camera (f/2.4 aperture) and a 32-megapixel portrait camera (f/2.0 aperture). There are various camera features that come with the Nova 9 Pro such as Short video, micro-movie, slow door, super wide-angle, night scene mode, portrait mode, video, slow motion, time-lapse photography, panorama mode, filter, selfie mirror, watermark, smile capture, voice-activated photo and time-lapse.
If you want to learn more about the Huawei Nova 10 series, please visit the link below.
Huawei Mate 50 Pro camera could be better than P50 Pro
Huawei Nova 10 and Nova 10 Pro leaks are out in the open as the phone lineup proceeds toward the launch on July 4th. However, Huawei is working on new flagship – The Mate 50 series the background that will come with a better camera than Huawei P50 Pro.
In the past week, we've come to learn that the Huawei Mate 50 series will equip a new Kirin processor – Kirin 9000S. Although, we don't have any official confirmation on this matter but we could assume that the phone lineup will have a limited quantity of this Kirin chipset. While rest of the Mate 50 stock will be powered by Snapdragon chipsets.
In addition, it's revealed that the company has improved Huawei Mate 50 Pro's imaging system and it would be better than last year's Huawei P50 series camera. There are also some changes made to the light intake of the phone. The construction of the new camera will make it easy to high-quality images with better details.
Huawei P50 Pro comes with a quad-camera system consisting of a 50 MP True-Chroma Camera (Color, f/1.8 aperture, OIS), 40 MP True-Chroma Camera (MONO, f/1.6 aperture), 13 MP Ultra-Wide Angle Camera (f/2.2 aperture) and 64 MP Telephoto Camera (f/3.5 aperture, OIS), support AF.
Huawei Mate 50:
According to previous leaks and reports, the Huawei Mate 50 series is likely to retain the three models theory from its predecessor. As such, the phone models could be  – Huawei Mate 50, Mate 50 Pro, and Mate 50 Pro+. As mentioned before, the company is likely to use the Snapdragon processor heavily on this flagship as the Kirin stock is running out.
Huawei Mate 50 lineup will be packed with the HarmonyOS 3.0 operating system, which comes with better performance as compared to the last generation of the HarmonyOS software. Furthermore, the Chinese tech maker has ensured that there should be a sufficient quantity of this series for the consumer, as it has brought in new suppliers to resolve some issues.
We currently, don't have an exact input on the launch date of the Huawei Mate 50 series but it was expected to happen in July, which is later postponed to somewhere in August. All and all, we'll keep you posted with further development.
Huawei Nova 10 series + 5G phone case?
Huawei Nova 10 series is the next tech-pack smartphone in the Nova lineup. Though there are still a few days for the device to appear in front of the users, a new report hints that Huawei Nova 10 could equip with a 5G phone case.
Yes! the standard Huawei Nova 10 model could use a 5G phone case. That says the digital blogger @FactoryDirectorShiGuan. According to him, Huawei is working on a new 5G feature-oriented case for the respective device and could soon implement it.
It's not the first time when Huawei will try to execute such an action. So far, the Chinese tech giant has adapted the 5G phone cases for Huawei P50 Pro models. Hence, we could expect to see such traits in the latest coming flagships as well.
On the flip side, the information also reveals that Huawei will push off these cases for other smartphones in the near future. For instance, Huawei Mate 40, Huawei Mate 50, Nova 9, and more. Hence, the corresponding device users will soon be able to get the benefit of the 5G network.
The Weibo blogger also hints at the arrival of a set version for the same device by mentioning the following words:
"Huawei Nova 10 has a 5G phone case, it will be at the follow-up meeting, and there may be a set version later."
Huawei Nova 10 Smartphone
The Nova 10 will set its legs on the consumer platform with a 6.78-inch screen with a 120Hz refresh rate and 2658 x 1200 pixels resolution. It will carry a left-dual hole camera on the front screen. Further, it will pack a 4000mAh battery supporting 66W fast charging.
Apart from the superlative key specs, the device will cover itself in 4 dashing colorways: Yaojin, Black, Provence, and Qijing Forest. Alongside, the company confirms two memory variants for the device 8GB/128GB and 8GB/256GB.
(Source)